HID cards guide: Which are the main technologies?
HID cards guide: Which are the main technologies?
HID access control cards are among the most popular in the world. Why? Because they are considered the gold standard within the industry and offer unrivalled encryption, security options and technology.
But with new technology comes new product lines, and at first glance, it can be difficult to get to grips with the different cards.
So, we've put together a guide explaining the best HID technologies to choose from, including highly secure Seos. We also discuss legacy access control systems, and why now might be the right time to migrate to a more secure credential.
Let's start with the basics…
---
How do HID cards work?
Most HID cards contain an RFID (radio frequency identification) chip and an internal antenna. The card contains a chip that is known as the access control identifier. This chip then sends a signal to a card reader via radio waves via its antenna when in range.
The reader then converts this information into a readable form of data, and it will decide whether to grant or deny entry to the cardholder. HID cards primarily operate on one of two radio bands: 125kHz (also known as low-frequency) or 13.56MHz (also known as high-frequency).
13.56MHz cards are a more secure option because sophisticated encoding can be included which improves security and privacy. In 2020, however, these older hardware-based technologies are giving way to HID's new software-based credential, which provides unrivalled levels of security and capabilities that offer way more than physical access control.
---
Why use HID cards?
Of all the access control manufacturers, HID's cards are among the most flexible. The way they are designed means multiple technologies can be included on a single card if necessary.
This is great for those wanting to upgrade to newer, more secure access control systems, but also need to maintain older systems too. As such a versatile card, they are used across a full range of businesses and organisations including:
Colleges
University campuses
Office buildings
Warehouses
Government authorities
Healthcare providers
Communal buildings
---
The HID range: Which is the newest and most secure?
Getting your head around the different HID access control cards isn't easy, particularly if you're completely new to the topic. Below, you'll find an explanation of the main technologies starting with the newest, most secure and recommended options.
We'll also cover legacy products too, although remember that if you're still using older 125kHz products, you leave yourself vulnerable and should consider upgrading to a more secure credential.
---
HID Seos
HID Seos uses open, global standards to offer the most transparent level of security possible and thanks to highly advanced encryption and a software-based infrastructure. Seos secures trusted identities on any form factor too – including mobile devices.
Compared with older HID products, it offers unrivalled data and privacy protection and can be used for applications beyond access control. Its cutting-edge capabilities include dual identity and mobile credentials. Seos supersedes legacy and existing credential technologies by providing these key benefits:
Security: Best-in-class cryptography offers unrivalled data and privacy protection, resulting in a more secure environment than other credential technologies.
Mobility: Seos is software-based and independent of the underlying hardware chip, providing new levels of form factor flexibility, including use on mobile devices, smart cards, tags, and more.
Applications Seos can be used to create bespoke solutions across numerous sectors including education, hospitality and government agencies.
The best bit for those looking to migrate to the latest secure Seos technology is that Seos access control cards can be specified to include other technologies such as MIFARE and DESFire, as well as HID legacy ranges such as Prox and older iCLASS cards.
---
HID iCLASS SE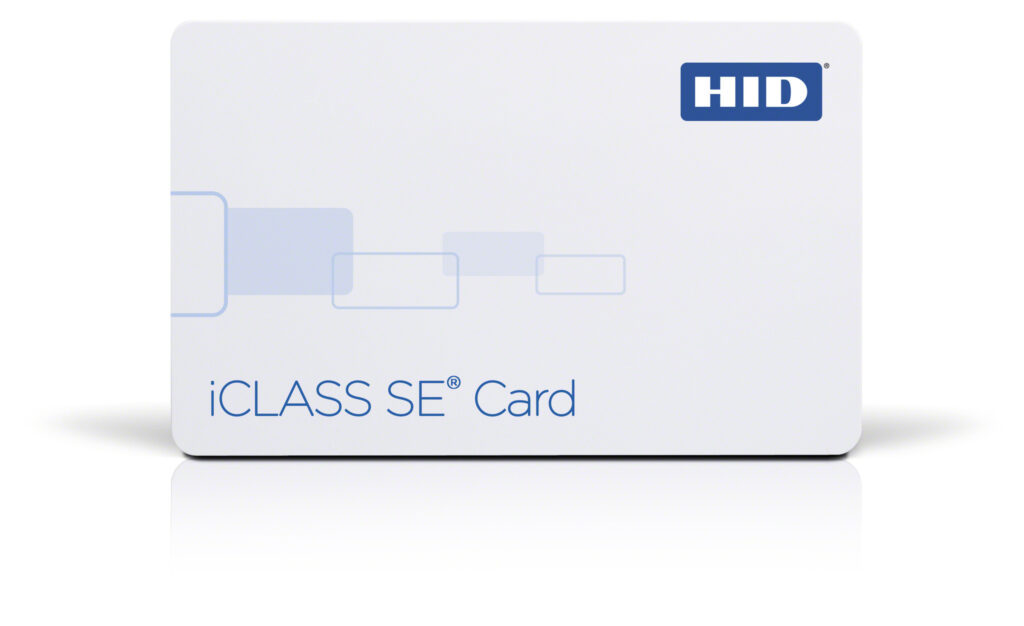 Although it doesn't offer the same flexibility and security as Seos, iCLASS SE credentials can be considered a more powerful option than standard iCLASS thanks to a higher data storage capability. It also gets an SIO (Security Identity Object).
This makes the card less vulnerable than other 13.56MHz technologies while it can be read by a reader from a distance of up to five metres depending on the environment. As with other HID cards, iCLASS SE can be combined with older technologies such as MIFARE Classic.
These additions increase encryption and make the cards more secure. This is a useful product for larger businesses that require increased security.
---
HID Prox & legacy products
We'd always encourage those looking for secure access control to install Seos in 2020. As the graphic below shows, a lot has changed in the 30 years since HID revolutionised the industry with its Prox card.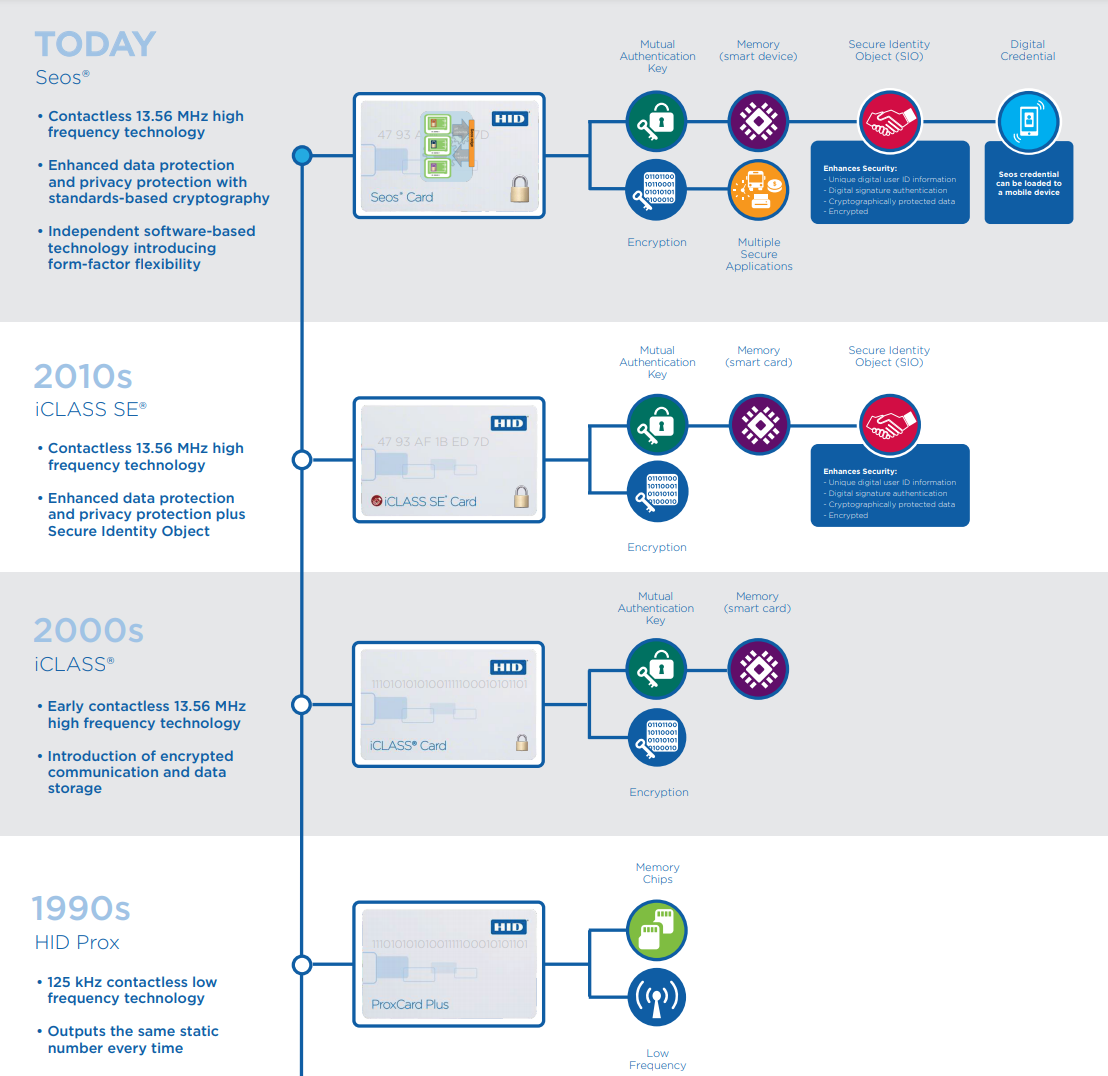 Despite looking the same as they always have, a card operating HID's Seos credential is significantly more advanced than older 125kHz products such as Prox and Indala. At the very least, organisations should be considering upgrading to the 13.56MHz ultra-high frequency iCLASS SE. Why?
For a start, 125kHz proximity cards are not encrypted and can now be easily cloned with tools that are readily available online. In 2020, this leaves them vulnerable to security breaches and system downtime, which in the long run makes these older technologies less cost-effective despite being less expensive to purchase. You can read more about why 2020 is a great time to upgrade your access control system here.
---
HID cards summary
We hope this simple guide to our most popular HID products has helped but weighing up which card is right for you can still be difficult. If you're currently without an access control system, the most secure offering is without a doubt Seos.
The beauty of HID's technology is that you can specify the latest iCLASS cards to include older Proximity technology too, making it a great upgrade for those looking to migrate to more secure technology too.
Our experts are ready to answer your questions and find the best access control solution for you. Give us a call at 0800 988 2095 and we'll ensure you get the right HID products.