How To Identify Access Control Cards
How To Identify Access Control Cards
Are you struggling to recognize key features on your access control cards? You'll need to have these details with you when it's time to reorder your access cards.
But if you're experiencing issues, don't worry. We can help.
Whether it's your card format, sequence number, or facility code you need help identifying, we've got you covered.
We're sharing our top tips to help you easily identify your access control cards.
---
How To Identify Access Control Cards
Look For Markings On Your Access Cards
A simple way to identify your access control cards is by looking at any physical markings or logos. By checking these markings, you will be able to find out information such as the card manufacturer, card format, site/facility code, and card range number, to name a few examples.
Now let's see it in action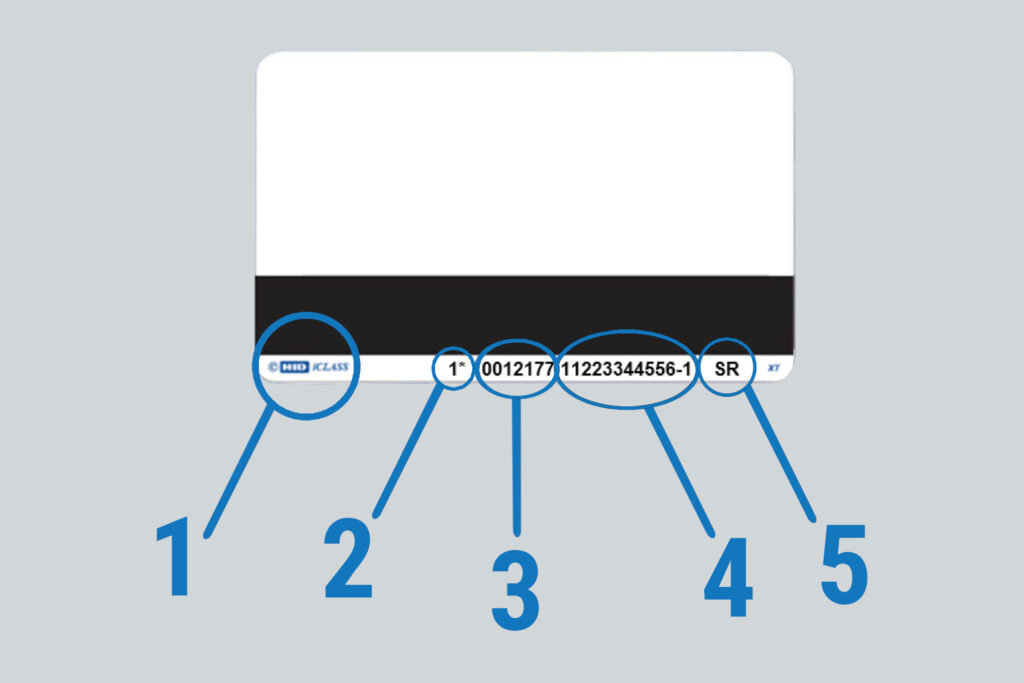 The above image shows an HID iCLASS card with several markings. Here's what the card markings mean:
1 – Manufacturer (HID) and technology (iCLASS)
2 – Memory size (1) and programming type (*)
3 – External ID number (00121) and suffix (77)
4 – Sales Order number
5 – SR Marker
As you can see, this card displays various markings, making it easy to identify it. Note that there will be different markings on each card, depending on the manufacturer.
But wait – if cards have been printed on to display photo identification, you may run into some difficulty, as the print could potentially cover the markings.
If this is the case, don't worry. Below are 4 more effective ways to help you identify your access control cards.
Examine Your Original Access Card Packaging
If you need information about your existing RFID cards, you can always go back to the original packaging the cards arrived in – as long as you remember where you put it!
The original packaging will tell you what cards you're dealing with as well as other key information such as formats, codes and range numbers.
Search Through Your Company Files
If all else fails, take a look at your emails and company records. Any invoices and order confirmation documents should show you the type of cards you have.
As a bare minimum, this will tell you the card manufacturer and format.
Look At Other Equipment For Markings
If you're creating and distributing cards yourself, there's a high chance you'll have more to work with than the cards alone. For instance, do you have an access control card reader you can take a look at for logos or markings?
At the very least, checking your cards against the access control card reader will allow you to identify their make. If you use key fobs, they will also show markings just like cards do.
Use Our Free Access Control Card Test
If you still can't determine which access control cards your organization has, don't worry. Here at Digital ID, we offer a free access control card test to help make things easy.
We have access to multiple access control card readers so we can quickly format test virtually any RFID card, smart card or proximity card. Find out more about getting your free proximity card test here.
---
Let's Recap
It can be difficult to identify your access control cards and their features, especially if you've had them for a while. However, our tips should make things easy.
And if you've ever had any issues with your access control cards or access control systems, you can find out the main reasons why access control cards stop working here.